A Lottery Win for the Satakunta Region
The European battery market will be worth EUR 250 billion by 2025. Finland wants its share of this pot – and can succeed with the competence of the Satakunta region.
Text Timo Riihentupa, videos Tomi Glad
"This could be a real lottery win for all of Finland. In Finland, all the most important minerals can be found for the battery industry, with renewable energy and top skills available. This is a matter of huge potential", says Tor Stendahl, BASF's Country manager, Finland.
BASF is a large German company and the world's largest chemical manufacturer.
The company has approximately 120,000 employees and has a turnover (2019) of approximately EUR 60 billion. That is more than the entire Finnish budget, as the state budget proposal for 2020 is about EUR 57.7 billion.
In late 2018, the global giant decided to invest in Finland when the town of Harjavalta was secured as the location of the company's first battery materials production facility in Europe.
Construction work on BASF's battery materials production facility has begun.
The production facility is due to start operating in 2022.
"When the project started, we looked at options across Europe. However, Harjavalta was the best of the options in all respects."
"The first factor was that we cooperate with Nornickel Harjavalta and we obtain the raw materials, namely nickel and cobalt, from next door. But there were many other contributing factors: The renewable energy available, the helpful attitude of the town of Harjavalta towards the entire project and the solid expertise of the region in general. The industrial infrastructure of the Harjavalta Industrial Park was also a factor. Through the EU Commission's IPCEI project, our project also receives support from Business Finland," Stendahl says.
The first Finnish battery cluster, set up in Harjavalta, is a very good example of Finland's potential. The Nornickel Harjavalta plant produces nickel and cobalt, which are then supplied to the BASF production facility, where precursors of cathode active materials are produced. Fortum's lithium-ion battery recycling plant is also under construction nearby.
"The EU Commission's agenda is to build a sustainable and competitive battery industry and battery recycling value chain in Europe. Now such a unique concentration of skills is emerging in Harjavalta."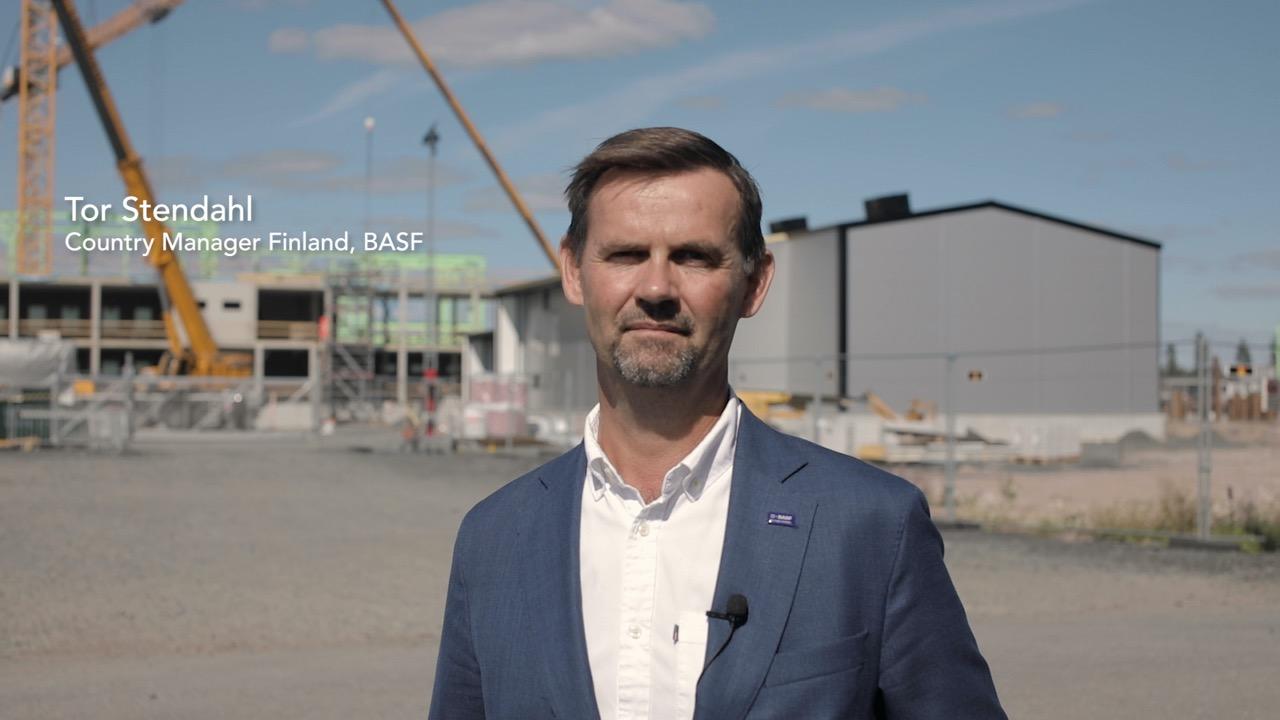 Tor Stendahl, BASF's Country Manager, Finland.
But how has Harjavalta, a small town in the Satakunta region, become the focus of Finnish and European battery industry?
The foundations were laid almost a century ago.
World War II was approaching, and this had also been noticed in Finland. Finland's political leadership decided that raising the country's economic defence readiness would require the establishment of a new metal plant. However, it should be placed as far away from the eastern border as possible, while still along good transport connections.
The correct location was found in June 1938 in Pori, where the state-owned company Outokumpu metal factory was established. Later, in June-July 1944, the military situation on the Karelian Isthmus front became difficult. It became imperative to move the copper works, which were vital to the war economy, from Imatra. Harjavalta, located in Satakunta, along the river Kokemäenjoki, was chosen as the new location. The town of Harjavalta was located not only close by to the Pori metal plant, but energy would also be provided from the river Kokemäenjoki, which flowed through the city.
Thus the foundations for Finland's leading and most modern industrial zone were laid.
"The operators in Harjavalta already have a long tradition of large-scale industry. This has shaped the pragmatic attitude of both businesses and residents of the region with regard to this industry. Businesses are looking to develop their business so that large companies in the Harjavalta Industrial Park can focus on their own core competencies. This creates a wide range of subcontracting that new operators can also rely on. We officials are familiar with working with the companies in the Harjavalta Industrial Park. Not only are we acting as an authority, we are also working in an agile way to create opportunities for different players," says Hannu Kuusela, the mayor of Harjavalta.
"For example, when BASF was looking for a site near Nornickel, we immediately set about acquiring land from a suitable location. This allowed the factory to be positioned so that utilities can be transported along the pipes. Everyone benefits from this pipeline transportation: the nearest residents from noiseless transportation, the environment from eco-friendly transportation, and the companies from low-cost transportation. Fortum's location in Harjavalta has also been facilitated by making a larger plot of land available to it than would have been possible without the rapid action by the town. This also created more room for growth for the company in the future."
Nornickel Harjavalta is a world-class expert in nickel processing.
Large-scale industrial operators are welcome to grow and develop in Harjavalta.
This is true for many of the companies in the area – such as Nornickel Harjavalta, which has operated in the Satakunta region for 60 years. Over its history, the company has grown and evolved into a world-class player in nickel processing.
For a long time, Nornickel products were delivered to meet the needs of traditional industry and, for example, stainless steel manufacturing, but now new demand has emerged for nickel and the cobalt sulphate created as its by-product.
Both are needed in batteries – and more batteries are needed.
Society has become electrified and more battery-driven. In this decade, demand for electric cars alone is believed to have increased by many dozens of times.
The Harjavalta Industrial Park is the leading cluster of metal and chemical industries in Finland.
"The Nornickel Group's vision is that by 2030 we will supply nickel and cobalt for more than two million electric cars. In the future, a large number of our products will be aimed specifically at the battery market," admits Joni Hautojärvi, Managing Director of Nornickel Harjavalta.
Finland can be at the forefront to make society more electronic.
Electric cars, for example, are wanted first and foremost for climate reasons. However, in China, one of the most successful battery industry countries in the world, much of the electrical energy needed to manufacture batteries is produced by environmentally damaging coal-fired power. Since the turn of the millennium, Finland has made major investments in environmental technologies that enable sustainable and responsible production.
Finland is also the only European country whose bedrock contains all the major battery minerals, nickel, cobalt, lithium and graphite. Finland also has extensive experience in metal processing, the extraction of key battery metals and high technology expertise in this area of industry.
"Finland has a clear competitive advantage over other countries up to this point. We already have a whole production chain here and everything is done sustainably," Hautojärvi states.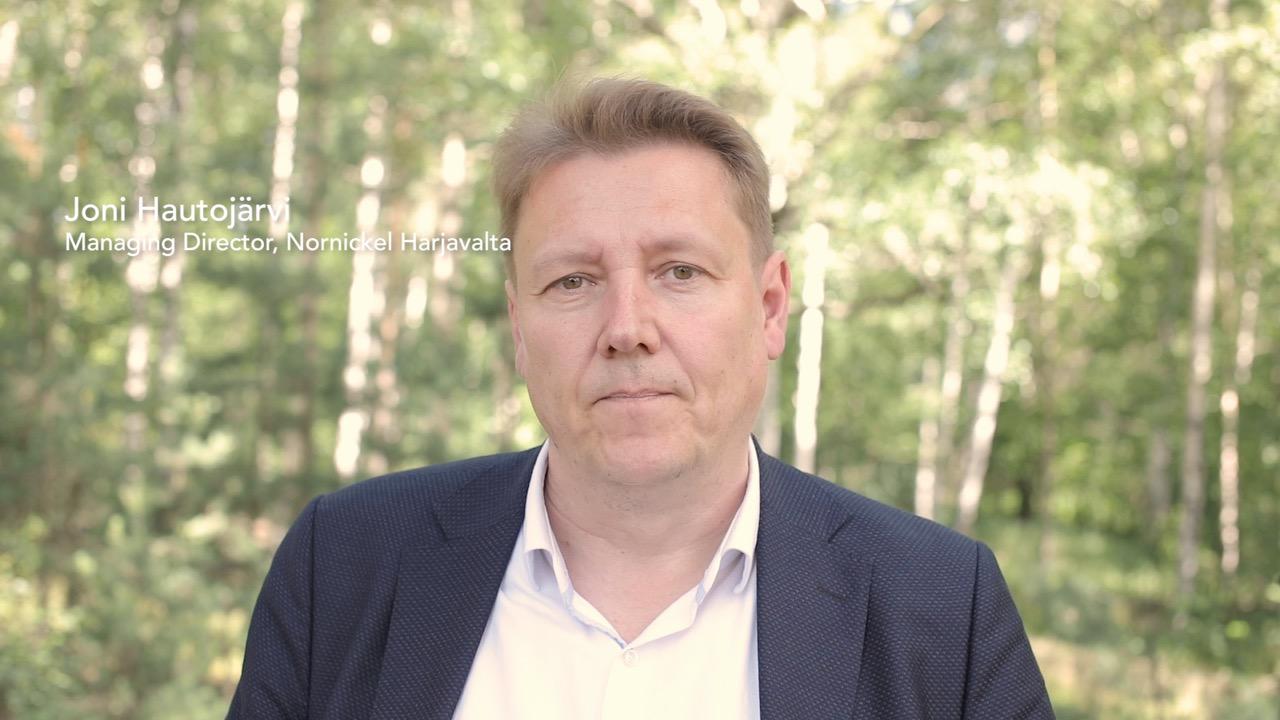 Joni Hautojärvi, Managing Director of Nornickel Harjavalta.
The manifestation of this competitive advantage is Harjavalta, where all the positive advantages of the country have already been realised.
In the town of Harjavalta, we understand the needs and desires of the big industry. We have responsible top expertise in metal processing, which also attracted BASF to the site. The Harjavalta production plant also uses renewable energy sources such as hydropower, wind power, and biomass energy. This practical combination of different forms of energy allows for a very small carbon footprint of battery materials.
"We've invested a lot in reducing our carbon footprint. Sooner or later, customers will also begin to appreciate this and demand will rise. That is our absolute strength and that is what we are good at. For example, in nickel production, we have the smallest carbon footprint in the world."
What may still be planned elsewhere in Finland has already been done in Harjavalta.
"We already have existing know-how and profitable, sustainable and growing production. This is why it is also worth investing in here," Hautojärvi says.
We already have existing know-how and profitable, sustainable, and growing production.
A new road to BASF's Harjavalta production plant was named "Akkukatu", or "Battery Street" a while ago.
There is a lot of symbolism in the name of the street, but also new possibilities.
China, Japan and South Korea dominate the manufacture of batteries and electric cars, but the Satakunta region, thanks to corporate strategies, investment and the battery ecosystem, has created a highly opportune situation for growing the battery ecosystem.
It is also what Finland aspires to do as a state. In the summer of 2020, the Ministry of Economic Affairs and Employment has launched the formulation of a national battery strategy. Finland wants to strengthen its role as a pioneer in sustainable battery production and battery recycling. The government has also proposed an additional contribution of EUR 450 million to the Finnish battery industry.
Of the proposed additional funding of EUR 450 million, a mandate of EUR 300 million will be allocated to attracting investment in the battery industry in Finland.  The aim is for the Finnish Minerals Group, which manages investments in the state mining sector, to attract the production of precursor and cathode active materials to Finland. These are the intermediates required for the manufacture of lithium-ion batteries for electric cars.
The Meri-Pori region may provide opportunities for the development of a battery cluster.
Harjavalta and Satakunta should be at the top end of investment, as the region has been able to generate the first battery ecosystem without significant subsidies. Battery investments should be concentrated in Satakunta, because it generates the best national benefit.
"In terms of cost efficiency of the new investments, Satakunta is the best for the battery business in Finland, because the region already has suitable and functional logistical and industrial infrastructure that has already been built," says Janne Vartia from the city of Pori.
The current battery ecosystem comprises the upstream of manufacturing in the battery value chain, so would the logical continuation be the battery cell factories, the so-called gigafactories, the most significant in terms of employment impact and investment?
For example, the Meri-Pori region has large areas comprising basic infrastructure, for which a new battery material or electrode plant would be ideally suited. Companies operating in the Pori Copper Industry Park are also involved in the business of the electrification of society, and add value to the Satakunta battery cluster.
"At the same time, there is also a lot of potential in the expansions and production growth of existing factories. Then there is the recycling side, which has huge potential for growth," Vartia adds.
Developing recycling solutions will not only support the carbon footprint reduction strategy and responsibility, it will also be necessary to satisfy the growing demand for metals critical to the electric vehicle sector.
Fortum, BASF and Nornickel, operating in Harjavalta, have signed a letter of intent on battery recycling. The companies aim for the closed circulation and reuse of metals from used battery materials. Preparations to build the Fortum recycling plant are under way.
"Batteries and the related industry are one of the most rapidly – if not the most rapidly growing new industry. It is estimated that in 2030 up to 90 per cent of lithium-ion batteries ending up in recycling would come from electric cars", says Tero Holländer, Head of Fortum's Business Unit Batteries.
The technology at the Fortum plant is unique and new on a global scale: In the past, there has been no industrial-scale recycling technology to recycle lithium-ion batteries that would have transferred most of the battery materials into circulation. Now Fortum is able to increase the recovery rate of valuable materials contained in lithium-ion batteries from 50 per cent to at least 80 per cent. The purpose of BASF is to utilise recycled materials produced by collaborative companies in its Harjavalta plant producing battery materials.
"Different raw materials are mechanically and chemically separated from decommissioned lithium batteries and turned into industrial reusable raw materials. In order to succeed in the future, all planned processes should have the lowest possible carbon dioxide footprint."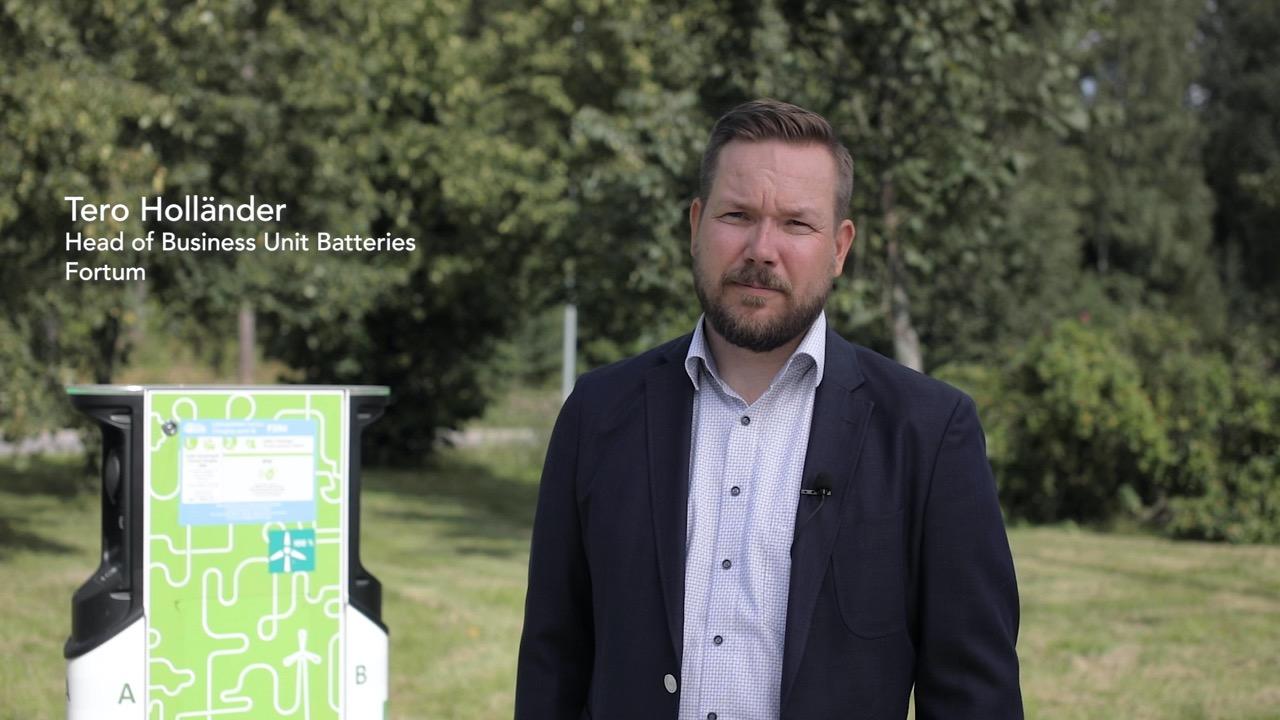 Fortum, Tero Holländer, Head of Business Unit Batteries.
The future seems bright in the Satakunta region.
All the key players in the battery ecosystem are talking about growth: Fortum, Nornickel and also BASF, whose production facility will be completed in 2022. The precursors produced at BASF's Harjavalta facilities are downgraded to battery material in Schwarzheide, Germany, to meet the needs of about 400,000 full-electric vehicles a year.
However, it may just be the beginning.
"We see a huge potential in this. We have the first phase of the project on the way, but we can expand capacity in Harjavalta in a modular way. We bought 14 hectares of land just to enable us to expand," says Tor Stendahl, BASF's Country manager, Finland.
"The growth prospects for battery recycling in Harjavalta are excellent. By 2030 the battery recycling industry could reach a business worth around EUR 20 billion globally ," Tero Holländer continues.
But what do you have to do in Harjavalta, Satakunta and Finland to achieve such a great vision becomes realism?
Holländer points out that we must keep moving, as competition is fierce. European states are competing for new investments by providing various direct investment subsidies for battery projects, as well as tax breaks.
"Success is not an individual sport. Businesses, municipalities, towns and cities operating in Harjavalta and Satakunta, and strong expertise – people – with a strong will to develop the economic life of the region, have enabled the creation of a competitive value chain."
"Finland must be more heavily involved in this global and European competition. This is not a matter of things that will happen in five or 10 years from now; decisions about the locations of new manufacturing plants are being made now. Flexible cooperation, as well as understanding common goals between the companies and authorities, are key to the placement of new companies," Holländer stresses.
Harjavalta has so far been more successful than perhaps any other area in Finland.
Currently, the industrial zone of Satakunta generates about two billion euros from all of Finland's exports. The entire Satakunta region's exports account for almost 7% of the country's share.
In the future, the lottery prize in Satakunta might just keep growing.
According to the European Commission, Europe will have a market of EUR 250 billion for the battery as early as 2025.
For Finland and Satakunta, there are enough billions in that pot. The BATCircle (Finland-based Circular Ecosystem of Battery Metals) consortium, led by Aalto University, aims to create a battery market of at least EUR 5 billion in Finland.
Harjavalta Industrial Park is a lottery win for the whole of Finland and worth billions.
Finland's first battery ecosystem
BASF selected Harjavalta as the location for its first battery materials production facility in Europe.  The new production facility plans to produce a precursor of cathode active material used in lithium-ion batteries. The plant is due to launch operations in 2022.
The Nornickel Harjavalta plant produces nickel and cobalt, which are supplied to the BASF production facility.
Fortum's new lithium-ion battery recycling plant in Harjavalta is in its planning phase. Fortum, BASF and Nornickel signed a letter of intent for battery recycling.